231 E 22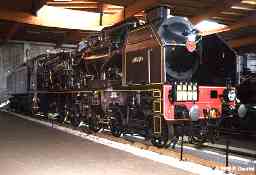 Pacific Nord dite Chapelon, résultat d'améliorations faites dans les années 30 par A.Chapelon. La E22 a été construite en 1936 et a effectué son dernier parcours en avril 1967 en tête du rapide "Flèche d'Or" (Paris-Calais).
La descente dans la fosse de visite permet d'avoir une vue très complète sur le chassis et l'embiellage interne de la locomotive : tiroirs et cylindres basse pression, etc....
Restaurée par le dépôt de Dunkerque en 1970.
Pacific type with steam engine enhanced by engineer Chapelon in 1930. Built in 1936, the last journey of this engine was the "Golden Arrow" Paris-Calais express in April 1967. The brown color is the Nord railway company livery before SNCF creation in 1936.
Don't forget to go down in visit pit to have a fantastic view on inner connecting rods and mechanism.
Restauration made by the shed of Dunkerque in 1970.
Longueur : 13,70 m

---
© 1999-2001 - PG