141 F 282 PLM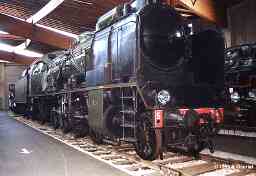 Plusieurs séries furent construites de 1919 à 1950. Dans les années 1960, elles furent rapidement remplacées par les 141R standard sur les lignes du Sud-Ouest.
Restaurée par le dépôt de Portes-les-Valence en 1974.
Built in several series from 1919 till 1950. On PLM lines in 1960, they will be replaced by standard series 141 R.
Restauration made by the shed of Portes-les-Valence in 1974.
Longueur : 13,80 m

---
© 1999-2001 - PG